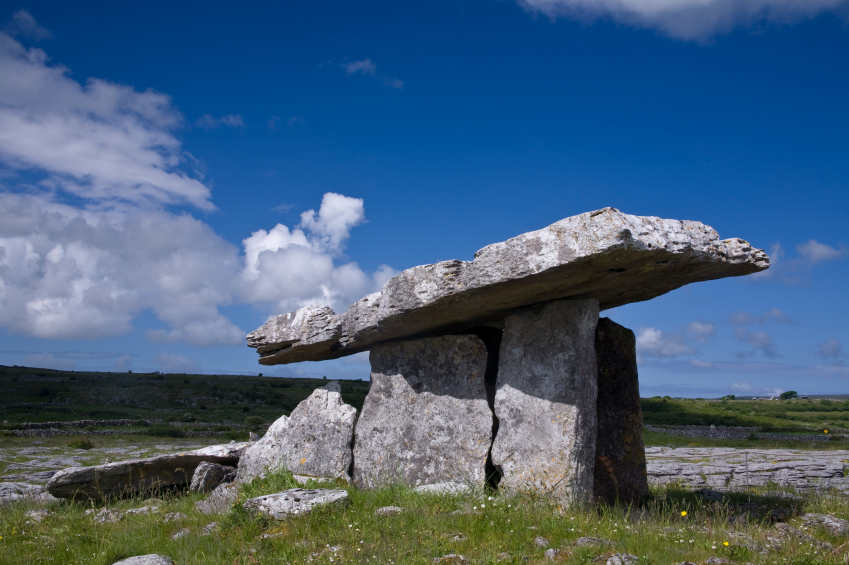 As Lakefield Lodge B&B is on the edge of the famous Burren area, this makes us a perfect base for walking or hiking. Whatever your level of walking experience, the Corofin area and wider Burren region has an extensive variety of options. If you are searching for peace and quiet then a 15 minute walk from Lakefield Lodge B&B takes you to the Wood Road at the edge of Corofin Village where you will cross a little bridge over the river Fergus and then continue on with great views over beautiful Inchiquin Lake.
The Burren National Park which is only 10 minutes drive from Lakefield Lodge is a walkers paradise. As you walk you will experience the beauty of the Burren's Floral diversity and Archaeological sites. For peace and tranquility, walk around or climb Mullaghmore Mountain and see the exposed limestone pavement unique to the Burren. On the various walks you will see ancient Ring forts, Megalithic burial sites, Green roads and dry Stone walls.
Experienced Walking Guides lead organised walks through the heart of the Burren. They offer half day and full day guided walks in some of the more remote and beautiful parts of the Burren. Tailor made walks of a particular duration or on a specific theme are also available.
At Lakefield Lodge B&B we will give you maps and information to help you plan your walking trips.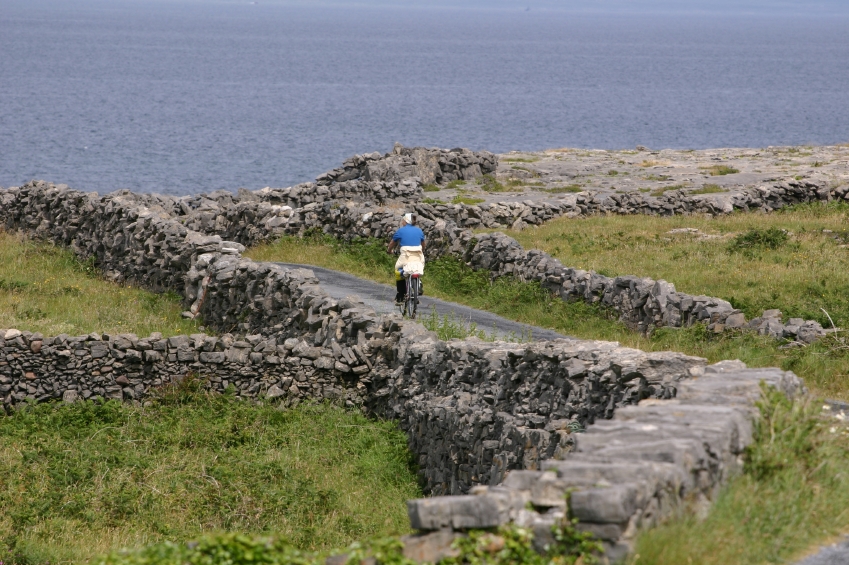 County Clare and the Burren Region captures some of the finest coastal scenery, Inland charms, historic monuments and dramatic landscape found in Ireland. Bordered by the Shannon River to the east and south, the Atlantic Ocean to the west and Galway Bay to the north gives Clare all the beauty and splendour found in all of Ireland – in one small area. Lakefield Lodge B&B in Corofin is located in the Heart of this lovely County and is an ideal base for your cycling holiday.
Full day or half day looped cycle trips takes you through rolling countryside on quiet backroads where you will see Rivers and Lakes and numerous Archaeological sites. As you cycle deep into the Heart of the Burren you will pass by Megalithic tombs, Stone forts, Medieval Churches and Castles and the unique limestone plateaux of the Burren Region. As you cycle on the north Clare coastal roads you have the Burren landscape on one side and views across the Atlantic Ocean and Galway Bay on the other side. As you cycle south on the coastal road you will see the famous Cliffs of Moher with views out over the Atlantic to the Aran Islands.
If you do not have your own bicycle, there are bicycles available for hire in the town of Ennis which is less than 15 minutes drive from Lakefield Lodge B&B. We can make reservations and arrange drop off if required. Cycling route maps and information will be supplied by us here at Lakefield Lodge B&B.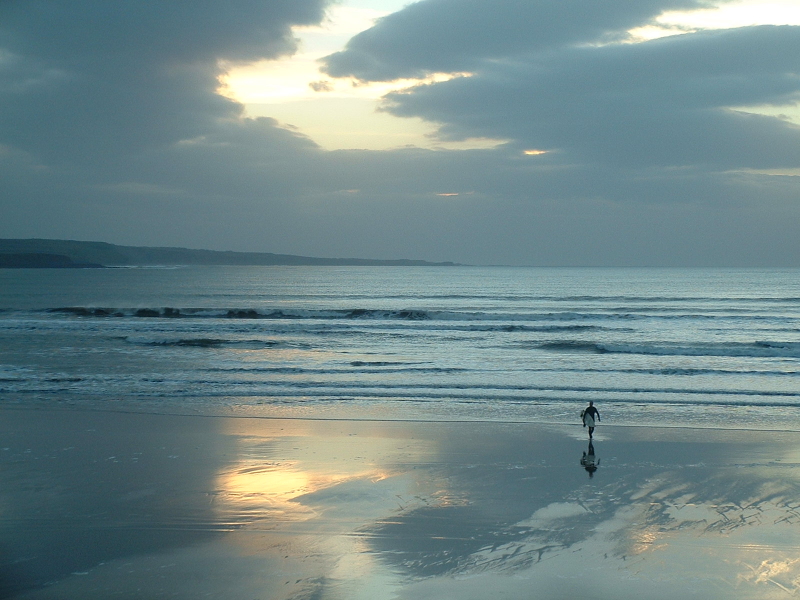 As County Clare is bordered by the Atlantic Ocean to the west and Galway Bay to the north, we have many fine Beaches for Surfing and Swimming. The best beaches are all within 20 to 30 minutes drive from Lakefield Lodge B&B.
Lahinch Beach which is one of the best beaches in Ireland is only 20 minutes drive. It is a blue flag beach and is extremely safe for swimming as it is always patrolled by lifeguards. This beach is also extremely popular for Surfing. The 2 mile long beach with its variety of breaks caters for novice, intermediate and experienced surfers. Lahinch Surf School is based at the Promenade and provides a safe, relaxed and affordable introduction to the exhilarating sport of surfing. 5 miles further south you will find Spanish Point, another great Surfing beach and like Lahinch has the advantage of the slower rolling Atlantic waves.
On the north west coast of Clare you will find Fanore Beach. It is also a great location for those who wish to learn to Surf as it has great space, solitude and uncrowded waves. Professional Surfing instruction is also provided at this beach.
On the south west coast of Clare you will find Kilkee blue flag Beach. This crescent shaped Beach of golden sands is really safe for Swimming and is also patrolled by lifeguards.
At Lakefield Lodge B&B we will give you further information, maps and directions to the lovely Clare Beaches.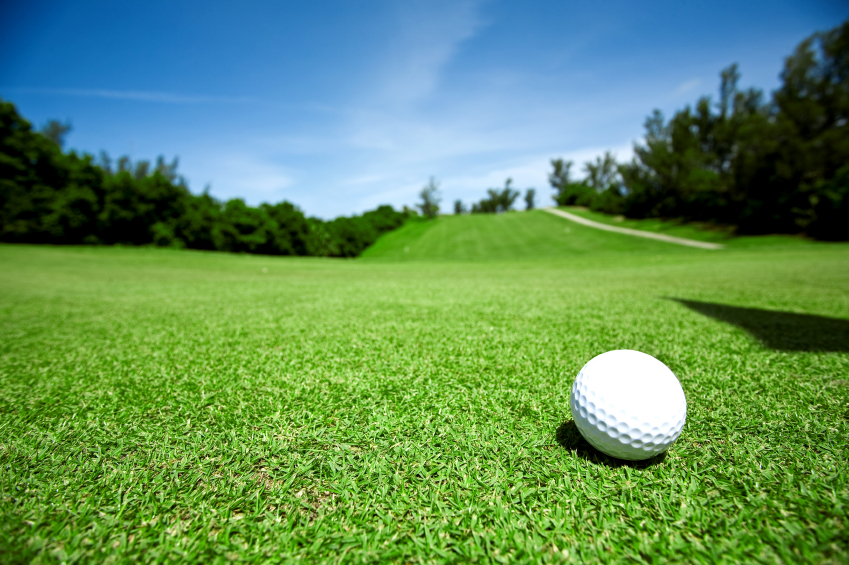 Co. Clare has a large number of excellent Golf courses. Some are only 15 minutes drive from Lakefield Lodge B&B and most are within 30 minutes drive.
The following are the most popular Golf Courses which are located closest to us –
Lahinch which is the famous Links 18 hole Championship Course sits on the Atlantic coastline (20 mins. drive)
Spanish Point which is a 9 hole Parkland Course is 5 miles south of Lahinch and also sits on the impressive Atlantic coastline (35 mins.drive)
Woodstock is a very pleasant 18 hole Parkland Course (12mins.drive)
Ennis is an 18 hole Parkland Course (15 mins.drive)
Gort is an 18 hole Golf Course designed by Ryder cup star Christy O'Connor Jnr. (20mins.drive)
Dromoland Castle has an impressive 18 hole Parkland Golf Course (30 mins.drive)
Doonbeg which is an 18 hole Links Golf Course designed by Greg Norman is located in a very scenic setting overlooking the Atlantic Ocean (45mins drive)
Further information and bookings if required can be made by us here at Lakefield Lodge B&B.