We have fishing boats available for hire here at Lakefield Lodge B&B. The boats are located on the best fishing lakes in the area. They accommodate up to 3 anglers and life jackets are supplied. Small outboard motors are also available for hire if required.
Contact us for rates and enquiries.
Michael is always at hand to assist and advise angling guests. He will take you to the relevant lake if required and help you to set off on your 1st days fishing.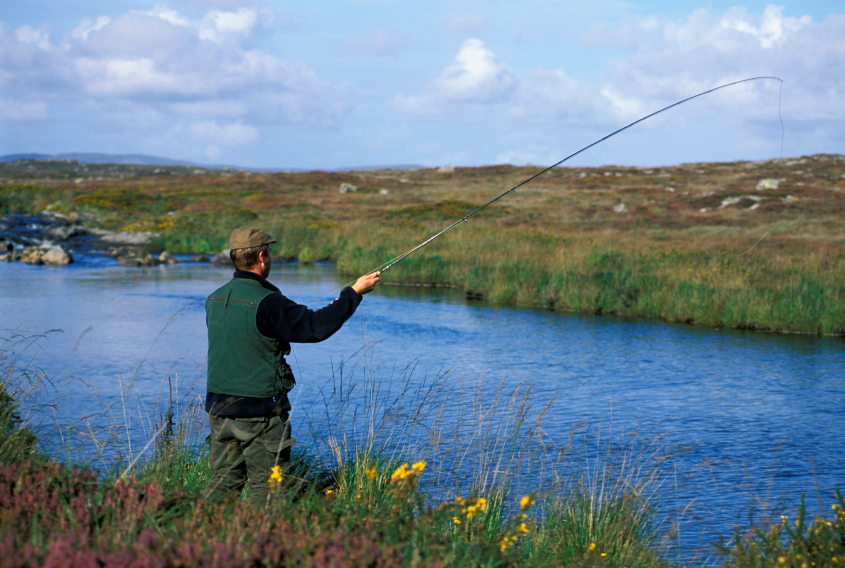 Fishing in the Corofin Area.
Within a radius of 12 km of Lakefield Lodge B&B there are approx. 12 lakes of varying sizes in the River Fergus catchment. Within this relatively compact area, there is a wide range of angling options available – from wild Brown Trout fishing to Pike, Perch, Bream, Tench, Rudd and eels. Fishing for all of these species is free and permits are not required.
The source of the River Fergus is in the heart of the famous Burren Region. The river flows southwards until it reaches the well known Inchiquin Lake which is a wild Brown Trout fishery (280 acres). As this is limestone country, the Trout grow up to 5 or 6 lbs in weight (2-3kg). Inchiquin lake and nearby river fishes best between April and June and again in September especially in high water levels. While bank fishing is possible on the lake, it is limited and for best results a boat is essential.
Access to the Upper River Fergus has been developed over the years and there are some nice deep pools and fast flowing riffles on sections upstream of Corofin Village.
Pike fishing has become very popular in recent years and every lake in the Fergus system holds a good stock of good quality Pike. Bank fishing along the river is possible but a boat is essential when fishing any of the lakes. Pike fishing is possible all year round but April to June and September are the most popular periods.
Coarse angling for Bream & Tench is also possible on the local lakes. Tench are present in all the waters but some fisheries have been developed specifically to accommodate the Tench angler. A number of fishing stands, stiles and footbridges have been provided by the fisheries service in a few suitable Tench ponds.
Bream fishing is available in Ballycullinan Lake which is located on the Ennis Road approx 2 km from Lakefield Lodge B&B in Corofin. Platforms have been provided in a few strategically located areas of the lake, and in recent years Bream in excess of 4.5kg have been recorded from this fishery. Rudd, Bream, Hybrids and Tench are also present in this lake.